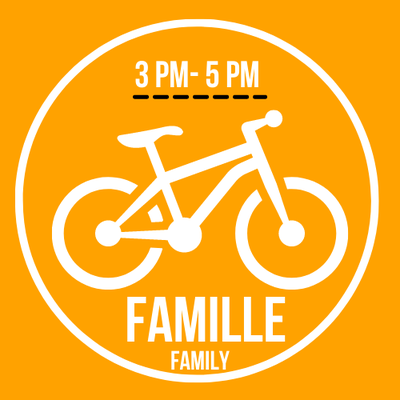 Family mountain bike ticket from 3 p.m. to 5 p.m. 4 members maximum
CA$85.00
Available
---
Sun
Mon
Tue
Wed
Thu
Fri
Sat

01

02

03

04

05

06

07

08

09

10

11

12

13

14

15

16

17

18

19

20

21

22

23

24

25

26

27

28

29

30

Not available

Not enough spots available

Available
| Time | Availability |
| --- | --- |
| June 19, 2021, 10 a.m. | 23 |
This product needs additional information, you must login to purchase this product.
Product Description
Advantageous prices for families of 3 to 4 people. 4 members maximum.
Reserve your mountain bike access for 2 hours from 3 p.m. to 5 p.m.
From June 19 to October 11, 2021.
Open from Friday to Sunday
Open 7 days a week the following dates:
• From June 19 to July 4, 2021
• From July 16 to August 1, 2021
Beginner, intermediate and advanced slopes, mostly downhill, alternating with a few small climbs. Without technical difficulty, the tracks are designed to have fun at all levels, all speeds. Lift by chairlift.
* Free for 6-year-olds.
Product Information
| | |
| --- | --- |
| UPC | VAR_SHMZGV |
| Availability | Available |